Enfield L98A1-GP Cadet Rifle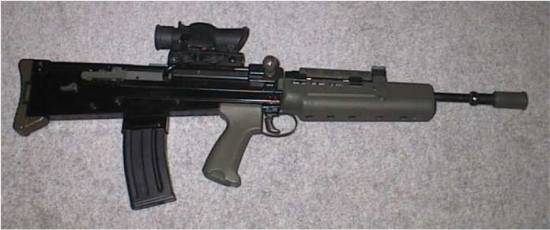 The English bolt action ENFIELD L98A1-GP CADET RIFLE, is a straight-pull repetition 5.56x45mm-NATO rifle. It is a "conversion" of the standard English L85A1 used for recruit training by the English Army. It uses the SUSAT optic but can also fit other STANAG optics and scopes. It replaced the old WW2 Enfield 303 rifle because it looks much more "familiar" and is just a bolt-action version of the service rifles that the future soldiers will handle on duty. It can be distinguished from the full-auto fire version L85A1 by the conic barrel end (that's NOT a flash suppressor), and a bigger lever for bolt-action. Very few of those weapons are circulating on the European civilian market. The English government used to sell those rifles everytime a cadet school was shut down. It's no longer manufactured. It can also fit STANAG magazines modified for the European civilian market (equipped with an un-removable block which allows them to carry no more than 10 .223-Remington cartridges), so, it has been accepted for hunting and sporting purposes in the whole Europe. This rifle is said to be accurate and reliable.
Submitted by: Perangelo Tendas.